Empty Bowls 2020 Update
The first two Saturdays at the Troy Waterfront Farmers Market were successful in raising about $21,205! We will have a limited selection of bowls at 3rd Street Potters in Troy where you can get a bowl if you were not able to make it to the market.
September Guild meeting
In case you missed it, you can view Lee Glasheen's demo on making and applying overglaze decals from a link on the CCCG website here. Thank you, Lee! And thanks to Barbara Costanzo for recording and editing the video, and to Jean Decker for making all of the bowls!
Also at the September meeting, current guild officers were reinstated: Theresa Zubretsky, President; Jean Decker, VP; and Beth Joslin, Treasurer. If you have any interest in helping out with any of the secretarial duties, I'd really like to hear from you. Really, really.
Volunteers?
Got a technique or skill you'd be willing to record a demo on? Let me know! We'd LOVE to help you record so we can share it at an upcoming guild meeting.
Download August, 2020 Newsletter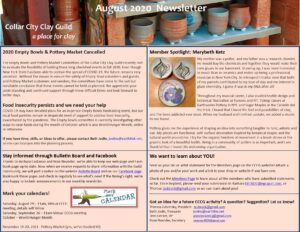 Download June, 2020 Newsletter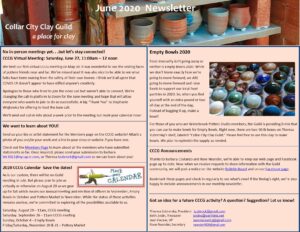 Download April, 2020 Newsletter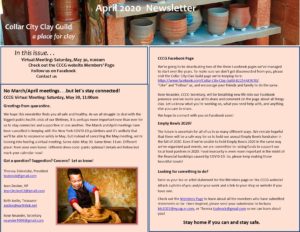 Download March, 2020 Newsletter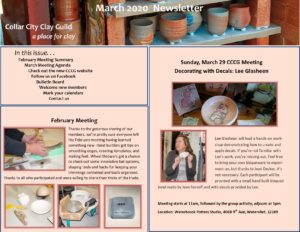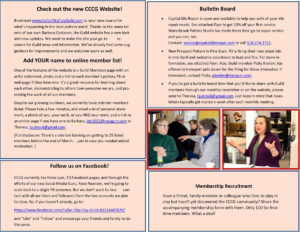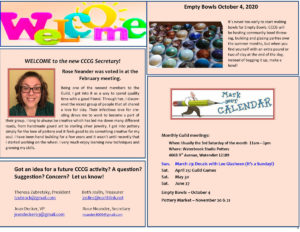 Download the February, 2020 Newsletter