Pottery Market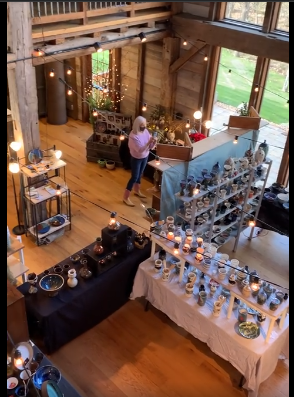 In case you missed it. . . .here's a bird's-eye view of Pottery Market 2021
THANK YOU
After many (many!) years of  service bringing Pottery Market to life, Mary Pat Hopper, Kathy Benson, and Arlene Wojtowicz have announced that PM 2021 was their last hurrah as PM Committee Co-Chairs and member extraordinaire, respectively.
All three have more than earned their retirement wings and it won't be easy to fill their  shoes.  Fortunately, they had the nuts and bolts down to a science so they pass along a well-seasoned torch to a future committee,
Dates for Pottery Market 2022 have already been secured so we'll start recruiting a new committee soon. Committee responsibilities include managing vendor applications and booth assignments; advertising and publicity; vendor support; and coordinating volunteers.
And no worries for newbies. In true CCCG member spirit, MP, Kathy and Arlene have graciously offered to support new committee members in the transition.
The Great 2022 Pottery Swap
Saturday, January 29 @ 11am on Zoom
Mark your calendars! CCCG and Waterbrook Potters Studio will be co-hosting the.second annual Great Virtual Pottery Swap on Saturday, January 29 at 11am.
We'll send out a zoom invite to all of you a few days prior. No RSVP required. Just hop on the call and be ready to display and swap a pottery item you made. A mug, a bowl, a vase., a sculpture — anything made of clay.
We wish we could meet in person and share hugs, stories and food. Virtual get-togethers will never quite match up to in-person gatherings. But we're grateful to Waterbrook for offering the use of their Zoom account so we can see faces, hear voices and share some fun and laughter. (We promise to deliver on the fun and laughter.)
Hope to see you all on the 29th!
A warm welcome to our newest member, Art Siegel.
Volunteers?
Got a technique or skill you'd be willing to record a demo on? Let me know! We'd LOVE to help you record so we can share it at an upcoming guild meeting.
Want to get more involved with the Guild?
We could use your help! We rely on volunteers to help with lots of Guild business. We are fortunate to have Barbara Costanzo managing our website. The success of Empty Bowls and Pottery Market rely on dozens of volunteers. We also have an Executive Committee opening right now for Secretary and could use some help keeping up with our Facebook page. Let us know if you're interested!
Got an idea for a future CCCG activity? A question? Suggestion? Let us know!
Theresa Zubretsky, President
tzubrock@gmail.com
Jean Decker, VP
jeandecker63@gmail.com
Beth Joslin, Treasurer
joslins@earthlink.net
Download the November, 2021 Newsletter; View videos and pictures
Download October, 2021 Newsletter
Download Sept. 2021 Newsletter; View Videos & Pictures
Download August, 2021 Newsletter
Download July, 2021 Newsletter
Download August, 2020 Newsletter
Download June, 2020 Newsletter
Download April, 2020 Newsletter
Download March, 2020 Newsletter
Download the February, 2020 Newsletter