November 2021 News
Download the November, 2021 Newsletter
Call for Volunteers!
Pottery Market is barely a week away and we still need volunteers for a variety of jobs including selling raffle tickets, staffing the door and checking vaccine status, providing support to vendors and more!
The Market runs from 10-6 on Friday, November 19 and from 10-4 on Saturday, November 20. Any help you can provide during any of those hours would be hugely appreciated.
Contact Mary Pat Hopper, mphopper@nycap.rr.com, if you're able to help out. Thank you!
Drum roll, please. . .
Empty Bowls 2021 netted $21,295.72 !
HUGE and heartfelt thank you to. . .
– All the generous potters who donated bowls
– Troy Waterfront Farmers Market
– All our reliable and cheerful Market volunteers
– The  participating Troy restaurants
– Our generous GoFundMe donors
– Waterbrook Potters Studio
– Co-Chairs extraordinaire, Beth Joslin and Stephanie Wojtowicz and the EB Committee
So. Much. Fun.

It was a full house on Saturday, November 6 for Barbara Reeley's workshop, Clay Mysteries: A Potter's Journey.
Here's Barbara throwing tall. . .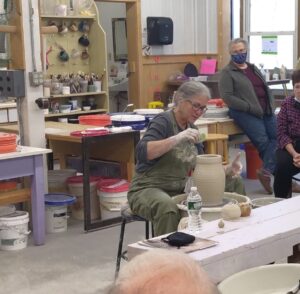 sharing stories. . .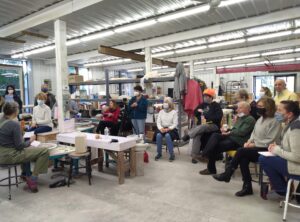 and inspiring smiles all around.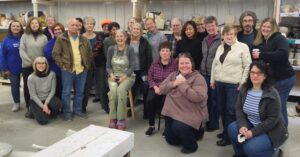 Volunteers?
Got a technique or skill you'd be willing to record a demo on? Let me know! We'd LOVE to help you record so we can share it at an upcoming guild meeting.
Want to get more involved with the Guild?
We could use your help! We rely on volunteers to help with lots of Guild business. We are fortunate to have Barbara Costanzo managing our website. The success of Empty Bowls and Pottery Market rely on dozens of volunteers. We also have an Executive Committee opening right now for Secretary and could use some help keeping up with our Facebook page. Let us know if you're interested!
Got an idea for a future CCCG activity? A question? Suggestion? Let us know!
Theresa Zubretsky, President
tzubrock@gmail.com
Jean Decker, VP
jeandecker63@gmail.com
Beth Joslin, Treasurer
joslins@earthlink.net
Download October, 2021 Newsletter
Download Sept. 2021 Newsletter; View Videos & Pictures
Download August, 2021 Newsletter
Download July, 2021 Newsletter
Download August, 2020 Newsletter
Download June, 2020 Newsletter
Download April, 2020 Newsletter
Download March, 2020 Newsletter
Download the February, 2020 Newsletter