LL Kiln Easy Fire for sale!

4.7 cubic feet.  Model e23S-240.  Professional grade with DynaTrol Automatic Program control.  Includes the Owner's Manual, Instructional DVD, and Kiln Furniture – 4 split round 21″ ceramic shelves, 1 full round 21″ ceramic shelf, a 36 piece assortment of ceramic shelf posts…(1/2″ 1″, 2″, 4″, 6″, 8″  square posts) with a package of kiln wash. Like new! Will need an Aluminum Stand.  Priced $77.00 on HotKilns.com. Asking $2,200.00 for kiln but negotiable. If interested, contact Marla, w8zmc@aol.com. Photos below.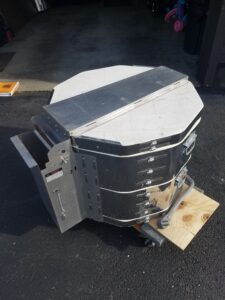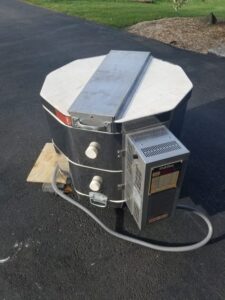 Kiln for sale!
(posted 10/25/2020)
Likely needs new heating elements but the fire brick inside is intact. It could easily be a $3000 kiln for the price of about a $500 rebuild. Asking $200 or best offer. If interested, contact Heather Longacker, heather@glintglass.com. Location: Ballston Spa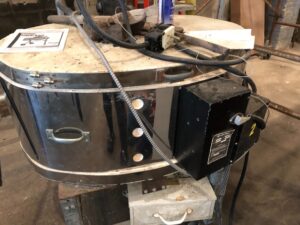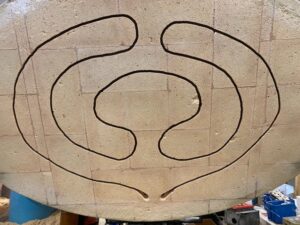 FREE! Kickwheel
(posted 10/25/2020)
Kickwheel pictured below available for free. Location: Albany. If interested, contact Wayne Evancoe, wayne.Evancoe@nylhca.org

Help needed for the Hopi Nation (posted 6/26/20)
Guild member Sharon Miller is requesting donations to ease the burdens that COVID-19 has placed on the Hopi Nation. As many of you likely know, COVID-19 has had a disproportionate impact on people of color and hardest hit among them is the Navajo Nation which is adjacent to the Hopi Nation in the American Southwest.  Sharon's friend, Derrick, is a potter who lives on the Hopi reservation and his people are in need of the following supplies: masks, disposable gloves (latex/nitrile/vinyl), hand sanitizer, toilet paper, tampons, deodorant, soap, and shampoo. They also need potable water. If you can help, please contact Sharon at sharisel@aol.com.Here's a photo of Derrick and some of his work.


If you've got a bulletin board item that you'd like to share with Guild members through our monthly newsletter or on the website, please send to Theresa, tzubrock@gmail.com. Just keep in mind that newsletters typically get mailed a week after each monthly meeting.