LL Kiln Easy Fire for sale!

4.7 cubic feet.  Model e23S-240.  Professional grade with DynaTrol Automatic Program control.  Includes the Owner's Manual, Instructional DVD, and Kiln Furniture – 4 split round 21″ ceramic shelves, 1 full round 21″ ceramic shelf, a 36 piece assortment of ceramic shelf posts…(1/2″ 1″, 2″, 4″, 6″, 8″  square posts) with a package of kiln wash. Like new! Will need an Aluminum Stand.  Priced $77.00 on HotKilns.com. Asking $2,200.00 for kiln but negotiable. If interested, contact Marla, w8zmc@aol.com. Photos below.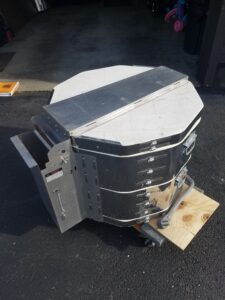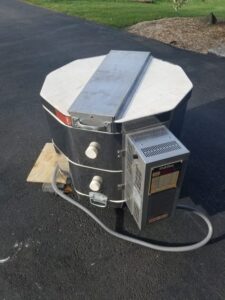 Kiln for sale!
(posted 10/25/2020)
Likely needs new heating elements but the fire brick inside is intact. It could easily be a $3000 kiln for the price of about a $500 rebuild. Asking $200 or best offer. If interested, contact Heather Longacker, heather@glintglass.com. Location: Ballston Spa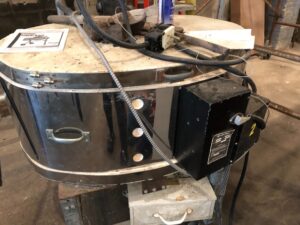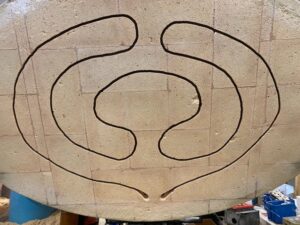 FREE! Kickwheel
(posted 10/25/2020)
Kickwheel pictured below available for free. Location: Albany. If interested, contact Wayne Evancoe, wayne.Evancoe@nylhca.org

The Fourth Annual Pottery Festival, Sept 5 & 6, 2020
(posted 8/27/20)
Local ceramic artists (including some of CCCG's own members!!) will be exhibiting at Sugar Maples Center for Creative Arts in Maplewood NY on Saturday & Sunday, September 5 & 6. Don't miss the opportunity to enjoy the beautiful scenery and bring home a one-of-a-kind work of art. For details, view the festival flyer.
15th Annual Empty Bowls event in October
(posted 8/21/20)
In lieu of hosting an in-person 15th Annual Empty Bowls event in October, the Guild will be selling bowls at the Troy Waterfront Farmers Market in October to raise funds to support Troy food pantries. Fellow potters, that's your cue to make bowls. And spread the news to all your friends and family members to mark October 3, 10 and 17 on their calendars so they don't miss the opportunity to support the cause and bring home a beautiful handmade bowl. The Empty Bowls committee is still exploring other avenues to continue our commitment to address food insecurity. Got an idea? Please let us know. We'll keep you posted with details as they become available. In the meantime, get those wheels spinning and slab rollers rolling and make some bowls!Thank you! And thanks, too, to the Empty Bowls Committee for being creative and persistent and caring.
Help needed for the Hopi Nation (posted 6/26/20)
Guild member Sharon Miller is requesting donations to ease the burdens that COVID-19 has placed on the Hopi Nation. As many of you likely know, COVID-19 has had a disproportionate impact on people of color and hardest hit among them is the Navajo Nation which is adjacent to the Hopi Nation in the American Southwest.  Sharon's friend, Derrick, is a potter who lives on the Hopi reservation and his people are in need of the following supplies: masks, disposable gloves (latex/nitrile/vinyl), hand sanitizer, toilet paper, tampons, deodorant, soap, and shampoo. They also need potable water. If you can help, please contact Sharon at sharisel@aol.com.Here's a photo of Derrick and some of his work.


Capital Kiln Repair is open and available to help you with all your kiln repair needs. See attached flyer to get 10% off your first service. Waterbrook Potters Studio has made them their go-to repair service and you can, too.
Contact: service@capitalkilnrepair.com or call 518-274-2722. Download Capital Kiln Repair Flyer
If you've got a bulletin board item that you'd like to share with Guild members through our monthly newsletter or on the website, please send to Theresa, tzubrock@gmail.com. Just keep in mind that newsletters typically get mailed a week after each monthly meeting.