Monthly Guild Meetings and Events
When: Usually the last Saturday of the month at 11 am
Where: Waterbrook Studio Potters, 406B 9th Avenue, Watervliet 
Saturday, August 29 – 11am
Virtual CCCG meeting
Please join us for a virtual Guild meeting Saturday, August 29 at 11am. The main topic for discussion will be advancing plans to raise funds to support local food pantries in lieu of an in-person Empty Bowls event this fall.  Arrangements have been made to sell bowls at the Troy Waterfront Farmers Market on three Saturdays in October. We not only need your help to pull THAT off, but would welcome ideas to expand our efforts as well. Check your inbox for details or shoot us a message for the link to join.
You don't need to be a current member to participate. . .all are welcome!

Saturday, September 26 – 11am
Virtual CCCG meeting, details TBD
October – World Hunger Month
SAVE THE DATES
Empty Bowls 2020 – Cancelled
Pottery Market  2020 – Cancelled
Pottery Market 2021
Fri and Sat  November 19-20, 2021 
Decorating with Decals: Lee Glasheen


Date: TBA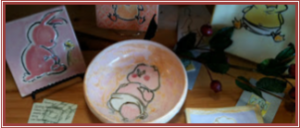 Lee Glasheen will lead a hands-on work-shop demonstrating how to create and apply decals. If you're not familiar with Lee's work, you're missing out. Feel free to bring your own bisqueware to experi-ment on, but thanks to Jean Decker, it's not necessary. Each participant will be provided with a small hand built bisqued bowl made by Jean herself and with decals provided by Lee.
Meeting starts at 11am, followed by the group activity, adjourn at 1pm.
GUILD GAMES


Date: TBA