Collar City Clay Guild members are among some of the most open and friendly people around. And their work is astounding!! Our members vary from the weekend hobbyist, to part-time potters, to career artists. Please browse our members below and visit their own websites for more information about the artist and their work! ​
Barbara Costanzo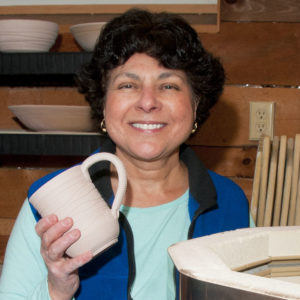 Making things with my hands is essential. I've been working with clay for 44 years. Using a simple material like clay to make something beautiful gives me tremendous pleasure. It is important to me to make objects that people use and enjoy in their everyday lives. I especially love creating bowls because people interact with them in such an intimate way. Many of my pots are thrown on the potter's wheel, although I also use hand built slab construction. I make my own lead free glazes. I fire the stoneware to cone 6 in an electric kiln. Opening a kiln after a glaze firing still fills me with excitement and apprehension. I continue my journey with clay with a sense of wonder and gratitude.
BarbaraCostanzo.com
Diane M. Cubit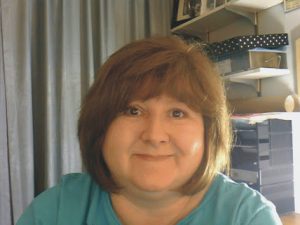 I am a tribal member of the Abenaki First Nation at Odanak Quebec, and a descendant of a long line of famous Adirondack basket makers and guides. In 1990 I received my BFA from Rochester Institute of Technology. I freelance as an illustrator for many years and continue to create paintings and crafts today, but my passions lies in clay. With my husband John and 2 sons we raise chickens, grown vegetables, and teach sustainability on our urban farm in Lansingburgh. We take an active approach to volunteer regularly with our local community.
D. Cubit Pottery
Jean Decker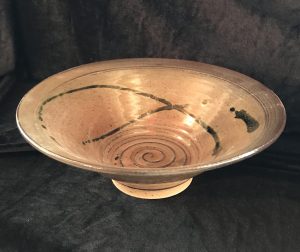 I first became interested in pottery when I took a class in college while attending SUNY Plattsburgh.  I was quickly interested and continued taking classes and firing kilns for my professor so I could have access to the studio.  When I first moved to Columbia County after college, I rented a studio space from Northeast Ceramics when it was located in Troy so I could continue creating with clay.  It was at that point that I found a home and so many wonderful friends in the clay community. For the past 10 years I have had my own studio, with kiln, at my home. I've been able to devote more time to my pottery since retiring from a 30+ year career as a public school teacher in 2018.  My stoneware pottery is both decorative as well as functional. Some of my work is thrown on the wheel and some is built by hand. In many of my pieces I use leaves, twigs and other organic materials to create texture and interest. Every time I am in my studio I challenge myself to create forms that have beauty, simplicity and grace. 
Rachel Garrison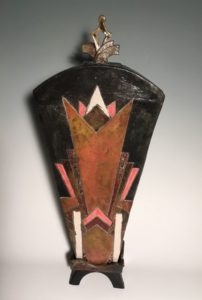 There is something special about potters. . .friends, sharing and fun are always part of our artistry. Always loving all aspects of art, clay found me back in 1976. I took a 15 year hiatus from clay to pursue medical illustration, but the clay called me back. Much of my work is informed by the patterns and textures found in the natural world stemming from the marriage of science and art. The natural elements have inspired me to make urns as a container for the physical interior as well as the spiritual exterior surface. Soon to retire from teaching Ceramics and Sculpture in a local high school, I hope to have more time to devote to my favorite medium. I enjoy many different styles and methods of ceramics, from utilitarian to sculptural as well as various firing techniques. I am ever grateful for this gift.
Round Lake Pottery on Instagram
Beth Joslin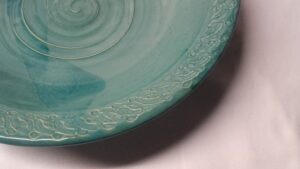 I started throwing pots in my 20's as a way to get out of my parents' house when I had moved back home after college.  In my 30's, pottery was my escape and a way to stay sane when I had 3 young children.  Now, pottery is a part of me and a way to not have to go out and get a "real" job.  I am a functional potter at heart and enjoy making pieces on the wheel that people can use and enjoy daily.  But I also love making handbuilt pieces using texture and glazing techniques that allow the texture to show through.
I pass my love of pottery on through teaching.  I have worked with adults with disabilities at the Art Center of the Capital Region and teach adults and kids classes and camps at the Albany Art Room.  I live in Albany with my husband, 3 kids, and 2 dogs.  I feel extremely lucky and blessed to have worked in many different studios and to have met so many amazing people through pottery.
Marybeth Ketz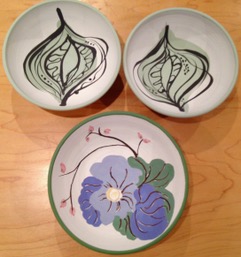 My mother was a potter, and my father was a research chemist. He would buy the chemicals and together they would make their own glazes in our basement. Growing up, I was more interested in music than in ceramics and ended up being a professional musician in New York City. In retrospect I realize now that both of my parents contributed to my love of clay and my interest in glaze chemistry. I guess it was in my DNA after all!
Throughout my musical career, I also studied textile design and botanical illustration at Parsons and FIT. Taking classes at Earthworks Pottery in NYC and Sugar Maples in the Catskills did the trick. I found that I loved the feel and possibilities of clay, and I've been addicted ever since. When my husband and I retired upstate, we added a studio to our house.
Pottery gives me the experience of shaping an idea into something tangible to hold, admire and use. My pieces are functional, with surface decoration inspired by botanical shapes and the natural world around me. I try for the organic freedom of movement in a brush stroke or the graphic look of a beautiful textile. Being in a community of potters is so important, and I am thankful that I found this welcoming organization. 
Sharon Miller
I make stoneware pottery, which is functional, and raku pottery, which is decorative. I love the interplay of intention and chance that necessarily defines the process of making pottery. Each piece of pottery that I make is one of a kind, as I love to continue to try to experiment. I do raku firings outside at my home in the spring, summer, and fall. A raku piece has its final firing in about fifteen minutes! The public is invited to attend and participate in these firings, and you can contact me directly on my facebook page to find out when I'll be having my next raku firing. I also blow glass and am the volunteer coordinator of the Voorheesville seed library, which is free for local gardeners. I love to contradance and volunteer at local music and dance events.
SharonMillerArts – facebook
Rose Neander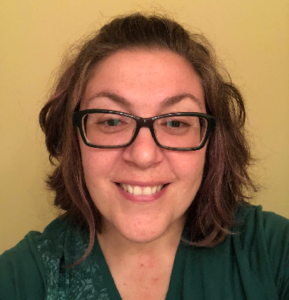 Being one of the newest members to the Guild, I got into it as a way to spend quality time with a good friend. Through her, I discovered the nicest group of people that all shared a love for clay. Their infectious love for creating drove me to want to become a part of their group. I long to always be creative which has led me down many different roads, from handmade gourd art to sterling silver jewelry. I got into pottery simply for the love of pottery and it feels good to do something creative for my soul. I have been hand building for a few years and it wasn't until recently that I started working on the wheel. I very much enjoy learning new techniques and growing my skills.
Barbara Reeley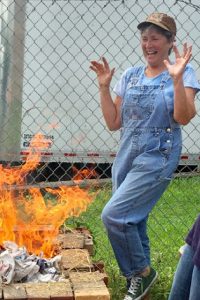 My life has balance~ family, friends, & clay."
Barbara Reeley is passionate about clay work. Throughout her life she has found her center in functional pottery. Working with clay and teaching pottery classes has been her way of creating community. Bringing Empty Bowls to Troy, New York marked Troy as her home. "Working primarily in cone 10 gas reduction fired stoneware and porcelain, my pieces are meant to be used daily. My mugs, casseroles, plates, etc. are hand thrown and designed to function in the kitchen and dining room." Barbara enjoys creating a second line of work in decorative raku and pit fired pieces. With the addition of Bruno (wood kiln) to her studio the excitement of wood fired pots has been added to her line of pottery. Since 1978 Barbara has been making pottery primarily on the potter's wheel. Monroe ClayWorks & Northeast Ceramic Supply is essentially the "center" of Barbara's life work.
Arlene Wojtowicz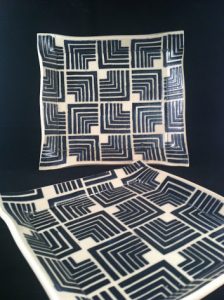 I have been working in clay for 14 years and only wish I had found it earlier in my life. The texture of the clay, the rhythm of the wheel and the limitless possibilities of the medium has thoroughly drawn me into its embraces.
My work in mid-range stoneware includes both wheel thrown and hand built pieces which span the range of whimsical clocks and owls to more functional pieces. I continue to challenge myself each time I sit down with clay to develop and find a voice through my work and hope that each piece brings joy to someone's life.
Stephanie Wojtowicz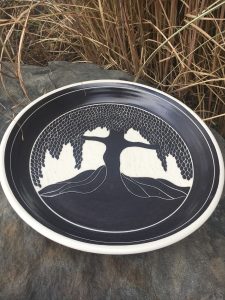 Nature inspires my work. Many of my pieces have elements of trees, birds, and leaves. Using porcelain and black slip, I carve these elements into the clay, a natural element in and of itself. Not only do I find beauty in Nature, I find beauty in how Nature can directly impact the piece through the process of wood firing.
The flame, heat, and ash work together to create an environment inside the kiln like no other. Each firing is different, just as each tree that feeds the fire is different and each forest the tree came from is different. The opening of a wood kiln exposed each piece as an individual canvas of how the river of flame played within the kiln. My hope is that my pieces bring as much happiness to the user as they do me.
Theresa Zubretsky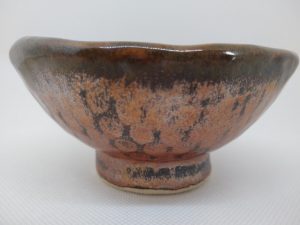 My hands met clay for the first time in 2013 and I've had dry hands and broken fingernails ever since. Whether throwing or handbuilding, working in clay is my meditation, my chance to block out the worries of the day and focus on creating, playing and experimenting. When all of the time and effort results in a pleasing finished piece, that's icing on the cake. For me, it's truly about the process. What a gift to find a creative outlet that provides space for me to enjoy both peaceful solitude and an enlivening community of generous and talented potters.